Board Member Certificate

Journal of Civil Engineering and Urbanism has made remarkable progress since its first publication. All accepted articles are published bimonthly. The Journal is pleased to present questionable certificates to JCEU's active editorial board members, the former guest editors, reviewers and also award certificate to corresponding authors of "Most Cited Papers" published in the past two years. We appreciate efforts of all the editors and reviewers and also all the authors interested in JCEU.
JCEU former guest editors and reviewers:
---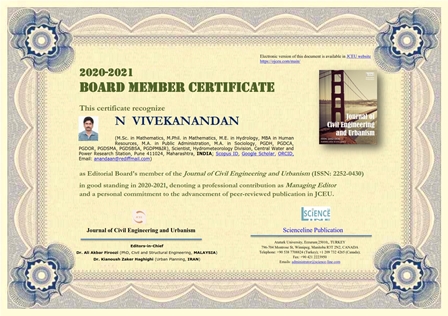 N. Vivekanandan
(M.Sc. in Mathematics, M.Phil. in Mathematics, M.E. in Hydrology, MBA in Human Resources, M.A. in Public Administration, M.A. in Sociology, PGDH, PGDCA, PGDOR, PGDSMA, PGDSBSA, PGDPM&IR), Scientist, Hydrometeorology Division, Central Water and Power Research Station, Pune 411024, Maharashtra, INDIA; Scopus ID, Google Scholar, ORCID, Email: This e-mail address is being protected from spambots. You need JavaScript enabled to view it )
---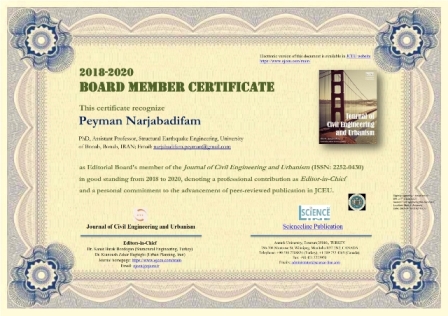 Peyman Narjabadifam
PhD, Assistant Professor,
Structural Earthquake Engineering,
University of Bonab, Bonab, IRAN;
Email: This e-mail address is being protected from spambots. You need JavaScript enabled to view it
---
Dr. Ali Mashhadizadeh Roveshti
PhD; Department of Urban and Regional Planning,
Faculty of Architecture,
Gazi University,
Ankara, TURKEY
---
Dr. Amir Ghatefar
PhD, Research Assistant,
Faculty of Engineering (Structural Eng.),
University of Manitoba,
Winnipeg, Manitoba, CANADA
---
Dr. Ali Soltani
PhD (UniSA), MURP, BE, Associate Professor of Urban Design/Planning,
Faculty of Art & Architecture, Shiraz University,
Shiraz, IRAN;
Email: soltani[at]shirazu.ac.ir
---
.